Levelland Economic Development Corp marks grand opening of Enviro Tech Rail Park Spur project
Category: Engineering
Written By: Valerie Edgren
Date: July 29, 2021
Levelland Economic Development Corporation celebrated the completed Rail Spur Project for Lot 8 with a ribbon-cutting inside Enviro Tech's new plant.
Parkhill Project Manager Jon Braudt, PE, said Enviro Tech, a new company to Levelland, was looking at the LEDC rail park and needed rail service. LEDC reached out to Parkhill to help design access off the Lubbock and Western Railway (LBWR) main line that was already running parallel to the new facility.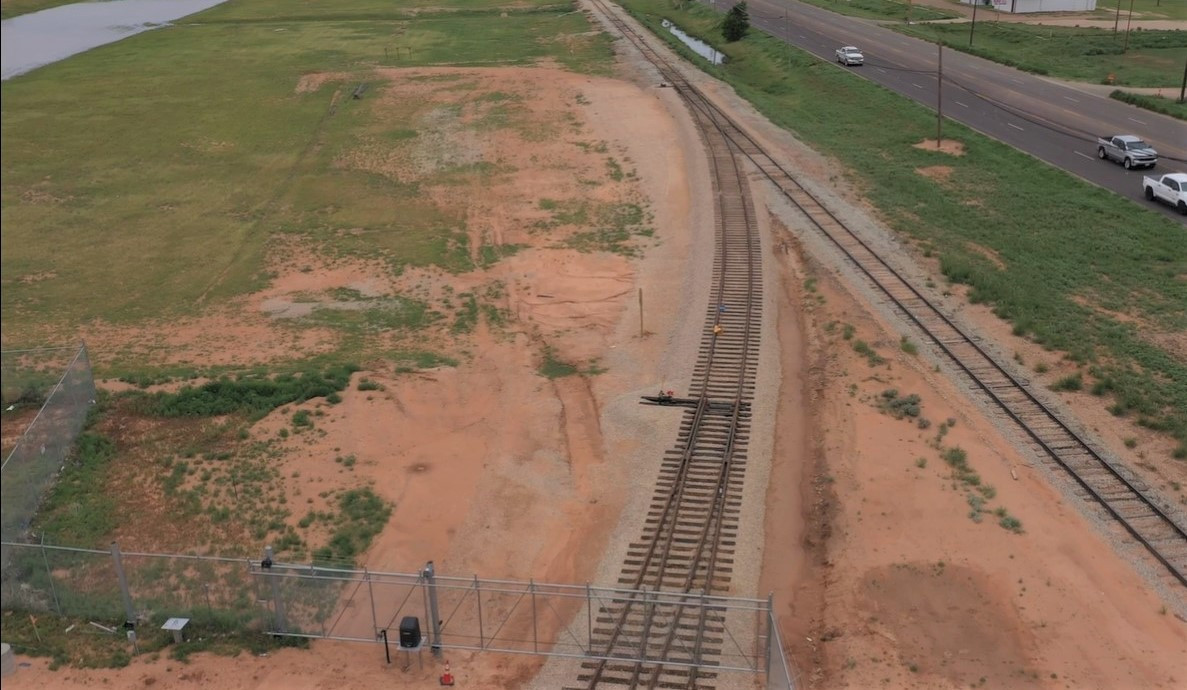 "We worked with them and developed a way to come off that main line with a spur and split that into two-siding tracks, so we had additional car storage, " Braudt said. "They're in the process of building a pipe track over those rails. So they'll be able to fully unload both sidings at the same time or load one and unload the other based on the needs of the facility."
With the grant funding in cooperation with the LEDC and the South Plains Association of Governments, the team could provide even longer sidings or tracks than initially planned – a bonus as Enviro Tech looks to increase capacity.
The project has a huge impact on the City of Levelland, said David Rushing, Director of LEDC, adding that it provides a valuable blueprint for businesses looking to relocate to Levelland.
Several goals added steam to this project:
Parkhill assisted the City of Levelland and South Plains Association of Governments (SPAG) in securing grant funding and rail permitting.
Parkhill provided survey, platting, design, bidding, construction administration, and on-site representation during construction.
A mainline switch was added to get railroad cars off the main railway track.
The siding track was split into two sidings to accommodate train car transloading needs.
The team's engineers configured a way to accommodate several more cars than anticipated.
Parkhill worked closely with Lubbock and Western Railway (LBWR) (A Watco Company) staff throughout the design and construction phases. This helped ensure a smooth and quick acceptance process once construction was complete.
Enviro Tech addressed the unique challenge of the products' need to be kept at temperatures above 65 degrees and prevent spills.
Parkhill participated in pre-planning efforts to transload products from Enviro Tech's building into the rail cars in future endeavors.
"We consider Parkhill a partner because they originally helped design the rail park," Rushing said. "And we've always been able to use them as a great resource whenever we are able to look at a new company," he added. "So we've been extremely happy with the relationship with Parkhill."
Joel Weigle, process engineer with Enviro Tech, said the work added rail space for 16 rail cars with room to expand. It features platforms for six unloadings at a time, with a main pump in the center of the two rail lines. Plans are to carry such products as hydrogen peroxide, a disinfectant, and acetic acid, a root growth stimulator.
"We have flow meters to make sure we have an accurate amount and inline quality analysis so that as the liquid is flowing through, we can make sure everything is up to par," Weigle said.
Weigle spotlighted the Parkhill team's work.
"It was great working with them."