Parkhill Takes Flight with Drone Imaging
Category: Surveying
Written By: Nicole McBride
Date: December 5, 2017
Parkhill's work has taken to the skies this year with the use of Unmanned Aerial Vehicles (UAV) or drones. Drones benefit clients, Parkhill technicians, and overall business purposes.
Parkhill has been utilizing drones for collecting aerial photographs of transfer stations, evaluating construction progress, estimating the life expectancy of cells in a landfill and in several other ways. Parkhill has licensed pilots that do drone work routinely. The drones coupled with Pix4D — a professional drone mapping, and photogrammetry software — gives Parkhill a new tool to collect topographic data.
Don Gray, an Engineering Tech for the Solid Waste Team, has been working with drones since 2016. Don is the first Parkhill employee to use drones in daily work and has been instrumental in helping develop Parkhill's current drone program. He said that drones have the potential to collect data relating to how the landfill is affecting the surrounding areas.
"Future uses can include reflectance maps for vegetative health, infrared imagery, and the possibility of detection of landfill gas from the air," Don said.
To become certified for business, the drone pilot must be certified by the Federal Aviation Administration (FAA) under Part 107 rules. This process includes testing at an FAA-registered facility.  Also, any drones used for business by Parkhill must be registered under the company's name along with a drone number for insurance liabilities. Drones owned by employees cannot be used for this reason.
Don also describes how drones benefit business by bringing more work in-house. Drones can be used for topographic surveys on many types of site projects and at other locations where aerial surveys can benefit a project.
In addition to providing topographic data, the photo of the site taken with the drone is an invaluable tool for not only design but also marketing as well.
"Our clients receive more value with more data and up-to-date aerial images," said Sam Wyatt, Associate and Surveying Team Leader. "This helps them make better decisions."
Setting ground control point.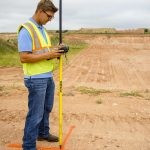 Surveying technician measuring ground control points with GNSS (Global Navigation Satellite System).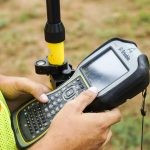 Collecting data from GNSS.
Preparing the Unmanned Aerial Vehicle for flight.
Programming flight path.
Survey technicians directing UAV flight.
Utilizing a drone to collect data aerially instead of being on the ground is safer for a technician if a job site is potentially dangerous, Sam said. Data collection is also faster with a drone than conventional grid surveying and provides far more data points. Drones also complete certain jobs in less time. The larger the site often means that more time can be saved in data collection.
Drones are not the only way to collect data but are fast becoming an industry-standard survey tool.
"Drones are one more tool in the toolbox for surveyors," Sam said. "It's not a straight apples-to-apples comparison, so there's not necessarily going to be a formula for how much time it saves us. However, having said that, some of our larger Municipal Solid Waste Volume Surveys this year were completed in half the time than a more conventional method we used last year."