ENR Texas and Louisiana: Buddy Holly Hall Named Finalist for Project of Year
Category: Architecture
Written By: Valerie Edgren
Date: January 10, 2022
The Buddy Holly Hall of Performing Arts and Sciences has been honored as one of ENR Texas and Louisiana's Best Projects of 2021 in the Sports/Entertainment category and Project of the Year Finalist.
Parkhill served as the Architect of Record, provided civil engineering and landscape architecture, and was on the interiors, structural, and MEP teams along with 16 other consultants involved in the $127.6 million Lubbock Entertainment and Performing Arts Association project. The overall concept was developed by the design firm Diamond Schmitt Architects from Canada in association with Parkhill and MWM Architects.
Buddy Holly Hall is a multifaceted, multipurpose facility in downtown Lubbock. The new facility is the largest performing arts facility in West Texas, attracting performers from Lubbock-local groups as well as on a national level, including Broadway, touring musicals, dance performances, conventions, festivals, banquets, and more. More than half of the construction process was carried out through the global coronavirus pandemic.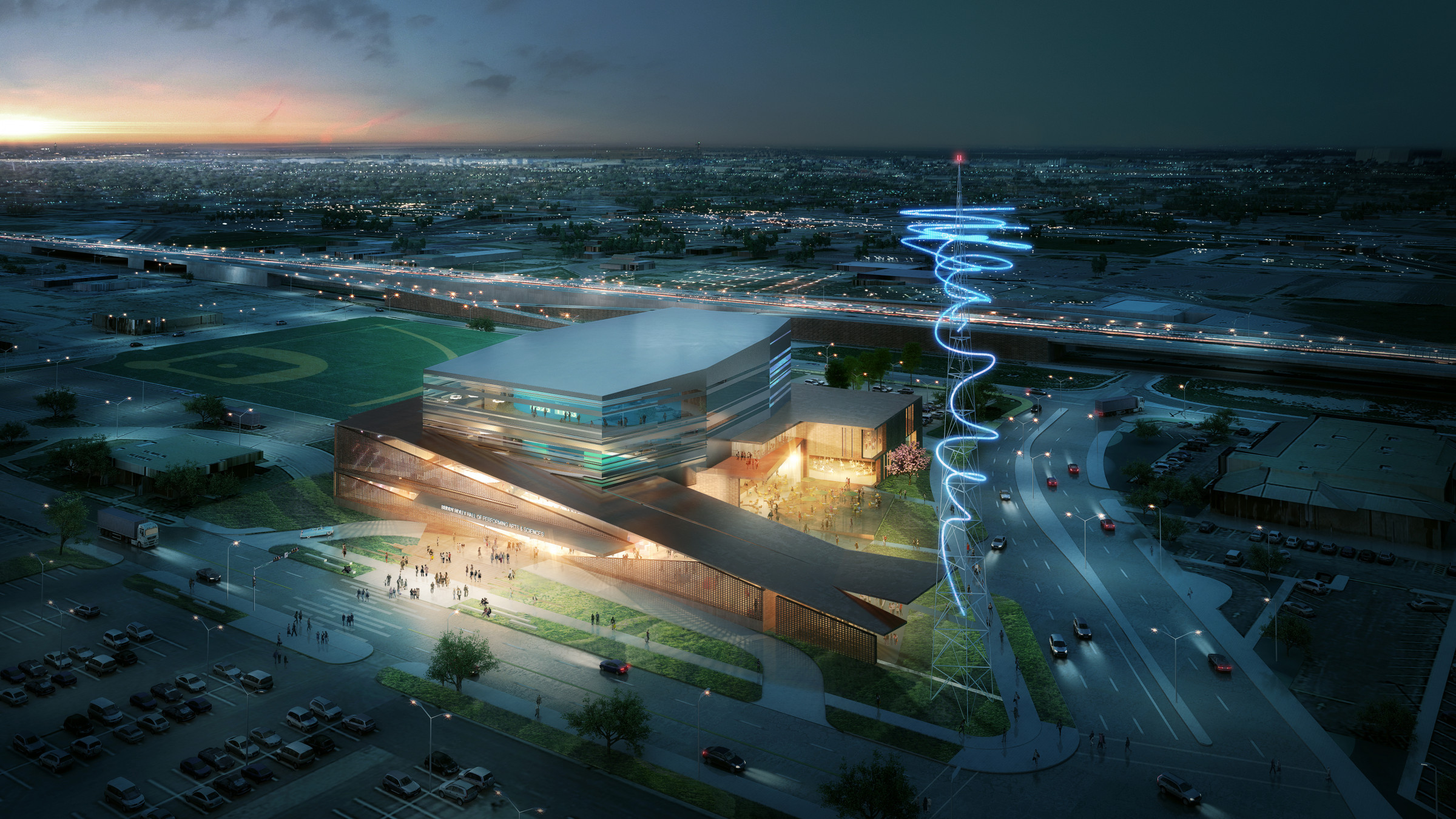 Honoring the city's native son rock-and-roller, this $127.6-million performing arts campus is West Texas' largest dedicated performance venue.
The showcase lobby features a 56-ft-tall helical spiral staircase and a brushed iron image of Holly strumming a Stratocaster created from 9,000 guitar picks. Outside, the 6,200-sq-ft "Bird's Tail" Canopy is a split-concrete roof structure supported on four splayed concrete columns, with each tail counterbalancing the one on the opposite side.
Challenges included heat and the project's floodplain location. Also, with the city economy booming, labor was difficult to find, so the workload was spread among several subcontractors. For the lobby stairs, the team had to procure rolled tube steel from another state and shop-weld it locally, while heavy stair sections had to be carefully winched through the trusses.