Steel Floating Cover with Linear Motion Mixer a First in Texas
Category: Engineering
Written By: Mark Sanchez, PE
Date: March 17, 2021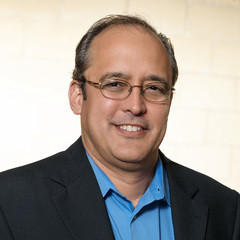 Mark Sanchez, PE, is a Principal and Team Leader for Parkhill's Treatment Practice. He markets and manages multi-disciplined projects related to municipal water and wastewater services in Texas, New Mexico, and Mexico. Mark is a project manager and project engineer with over 20 years of experience and has led the planning and design of over $300 million in water and wastewater infrastructure projects.
El Paso Water replaced the floating steel cover and gas mixing system for anaerobic Digester No. 2 at its 12 MGD Fred Hervey Water Reclamation Plant.
The original cover and the gas mixing system were over 33 years old and had exceeded their design life. El Paso Water replaced the original cover with a new floating steel cover and the original gas mixing system with a linear motion mixer. The contractor for this project was R.M. Wright Construction.
This is the first steel floating cover with a linear motion mixer in Texas.
The linear motion mixer uses about 30% of the energy used by the original gas mixing system and will save $10,000 in annual power costs. Other benefits include better quality digester gas, increased digester gas production, and less maintenance. El Paso Water also replaced steel floating covers and gas mixing systems with new covers and linear motion mixers on two other anaerobic digesters.